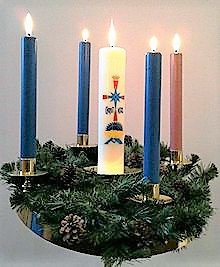 Advent is a time of preparation for the birth of Jesus and the anticipation of the return of Christ the King.    It begins on the 4th Sunday before Christmas and ends on Christmas Eve.  In the past, the color of Advent was purple which represented royalty as well as penitence.  Although some churches still use purple, most have changed to royal blue which is also a symbol of royalty and distinguishes Advent from the purple color used in Lent.
The beginning of Advent is marked by "Hanging of the greens" or decorating the church for Christmas.  The Advent wreath is traditionally a part of the decorations.  The circular evergreen wreath holds three blue candles representing hope, preparation and love, one pink candle a representative of joy and one larger white candle in the center, called the Christ candle.  Each week a new candle is lighted and a devotional is read along with a prayer.  The Christ candle is lighted on Christmas Eve.
Advent is a season of hope…hope for better things in our world and lessening of pain and suffering.  God is the God of new things and all things are possible in Him.