No Need to Knock as the Doors are Always Open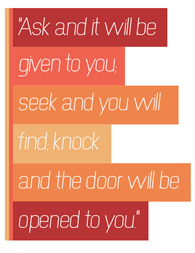 The congregation of Hyde Park is as differing as the changes the church has undergone since its doors opened in 1896. On any given Sunday, you will find babies, toddlers and children of all ages enjoying Children's Time followed by Sunday School.
You will also be amongst young couples who initially chose the facilities for their wedding site but fell in love with the people and ambiance and have returned consistently. Of course, we also have a number of who have been regular attendees for years.
There are individuals of all ages, nationalities, races, backgrounds and belief. Not only is Hyde Park a wonderful place where you will leave feeling uplifted but one in which you will certainly find someone in common with as well as others from whom you can learn and identify to.
We absolutely want to see new, young and fresh faces as we grow and expand and, as beautiful and inviting as the exterior is, the individuals inside are even more so.
Halloween Party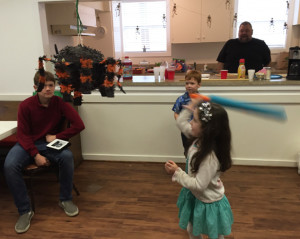 Our Doors are Open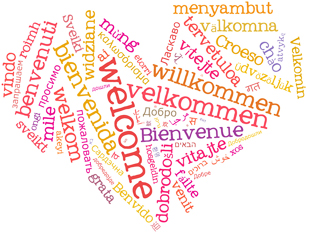 Faith is very personal and the way in which you feel most comfortable and closest to God. That may entail large congregations where you can receive a weekly reminder of your journey while going unnoticed or spending time talking to the Lord and strengthening your relationship on your own. However, you may find yourself seeking a location in which your presence is recognized and feel as if you are part of a family who share your beliefs.
Hyde Park Presbyterian is a small site that provides a unique experience which most other churches can neither duplicate nor are comparable to in history, ambiance or diversity. Being just that, instances occur in which familiar faces who are typically seen weekly are unable to attend and, in their absence are missed.
Visitors are often drawn in due to the ambiance, fellowship, open arms of the attendees or just by happenstance. The percentage of those who are, regardless of the reason, realize they have found a new spiritual home, return time and time again and often become members.
We would love for you to join us if you are looking for a small and cozy place to worship as new faces, personalities and views are not only appreciated but a way to make new and wonderful connections.
A Shining Star
We were gifted to have a future and very talented pianist, little Sebastian Kyle, son of April Kwon, who makes the church sing every Sunday with her gift and skill share his artistry with the congregation. He is such a a bright light who brings joy to everyone he meets and his capabilities seem unending.
The Symbol of Our Faith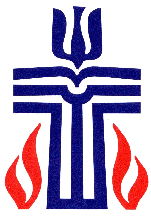 While most Presbyterians are familiar with the official PC Seal, the majority don't know either the meaning behind it or the planning and intricacies that went in to its creation. Upon first glance, it is easy to notice the cross, dove and flames. While such a seemingly simplistic symbol, there are many representations of our faith intertwined that demonstrate our beliefs.
Of course, the cross in its entirety is most prominent, serving as a reminder of the unending love that God and Jesus have for each and every one of us. The dove confirms the solitude and purity that the death of Christ brought and continues to bring to a world filled with struggle and disparagement.
If you look directly beneath the dove, suddenly the image of an open book emerges. That book is the Bible serving as a reminder to keep our minds and hearts open while extending our hands and passing along what we know to others.
It can also be noted that the center of the dove is in the shape of a fish. Jesus fed thousands with solely a few, another symbol of how it is important to give to others, tithe and be active participants in community organizations as a means of serving others.
What looks merely like a logo is actually a well-constructed presentation and reminder of what our congregation is based on and believes in.
What's Mine is Yours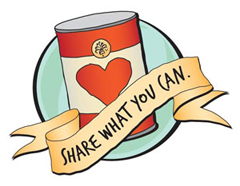 Part of what we believe is important in spreading the word and practicing our faith is giving back to the community. One way to do so is through our food pantry. It occurs every Tuesday between the hours of 11 a.m. and 1 p.m. A wide variety of non-perishable goods are available and anyone from any area of town is more than welcome to come.
The pantry is most full during the first two weeks of the month as that is when it has been freshly stocked. However, coming by the remaining Tuesdays will certainly give you enough items to feed yourself and your family.
Upon your first visit, some form of identification is required but not necessary subsequently. However, being a small church, we require that only one visitation a month is permitted so as to serve as many people as possible as serving others is what God wants us to do.
Welcome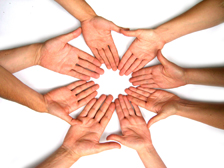 If you are looking for a warm and friendly place to worship and don't want to get lost in the crowd of a large church, Hyde Park Presbyterian Church may be what you are looking for. We are a small church with a big heart. Our members and friends are very welcoming and will make you feel at home. Our pastor delivers inspiring sermons which provide us with something to think about and to apply to our daily lives in the upcoming week. We also have gifted musicians who enhance our worship services with wonderful music.
Located in the historic area of Hyde Park, we have been serving the Austin community for over 100 years. Although we are a small church, we take pride in the number of outreach programs that we participate in and support.  Our worship service is on Sunday morning at 10:30 a.m. and we would love to have you visit.
What People are Saying about Hyde Park Presbyterian Church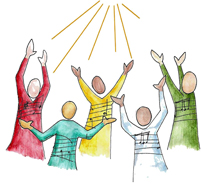 "What a wonderful and warm place. I felt at home the minute I walked in the door. The diversity of the crowd was nice and everyone was so kind and friendly. It was just a great atmosphere overall!"
"There is a sweet, sweet spirit in this church. Everyone including the pastor, the musicians and the congregation made me feel very welcome. The sermon was delivered in a way that made it very relevant to daily life. In this day and age of mega churches and glossy ministers, I really like Hyde Park Presbyterian Church's simple style."
"A beautiful church, good service and people that are very delightful and accepting."
"The people of HPPC make my home away from home. When I enter the sanctuary, I am always greeted by smiles and familiar faces. The dedicated members light the candle to symbolize our continued faith. The care of the buildings and grounds reflect the beauty and love of the people. I am so grateful to call HPPC my church, my home."
"My son and I chose Hyde Park Presbyterian Church because it has a small congregation and also found everyone to be very friendly. The pastor is very loving and caring as well as always available to listen whether she has known you for years or you have only visited a time or two. When the passing of the peace comes around, each person reaches out for one another's hand and/or exchange hugs and everyone is made sure to feel as if their presence is appreciated."
Children's Time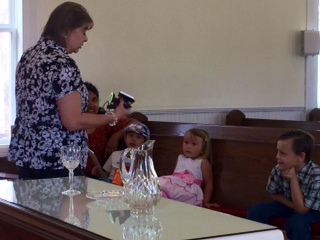 Each week, time is taken for the children who attend church so they may learn about things which are valuable to them both now and in the future. The focus is always on how to treat others, growing up to be strong, caring, giving and kind spirited individuals. The lessons always connect to the sermon and are directly related to God's message yet in a special and fun way that a child can understand.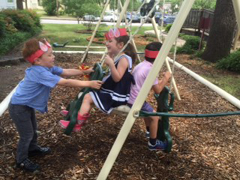 After children's time, Sunday School begins so if the little ones are too young, they can go into the nursery and otherwise, they meet to celebrate God whether in the playground or Mavis' House. It is a way for church to be both fun and a way to learn about learn about faith at the same time.