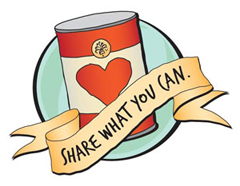 Part of what we believe is important in spreading the word and practicing our faith is giving back to the community. One way to do so is through our food pantry. It occurs every Tuesday between the hours of 11 a.m. and 1 p.m. A wide variety of non-perishable goods are available and anyone from any area of town is more than welcome to come.
The pantry is most full during the first two weeks of the month as that is when it has been freshly stocked. However, coming by the remaining Tuesdays will certainly give you enough items to feed yourself and your family.
Upon your first visit, some form of identification is required but not necessary subsequently. However, being a small church, we require that only one visitation a month is permitted so as to serve as many people as possible as serving others is what God wants us to do.